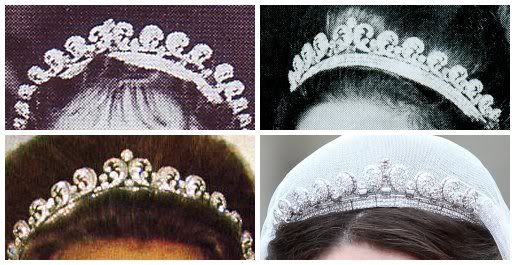 The Cartier Halo (Scroll) Tiara
ca. 1936
(clockwise from top left: Queen Elizabeth the Queen Mother, Princess Margaret, the Duchess of Cambridge, Princess Anne)
This heirloom British tiara has been the talk of the town for the past few weeks, after the Queen lent it to Catherine Middleton for her wedding to Prince William, now the Duke of Cambridge. It's also experienced a re-naming. For years, royal watchers have called it the "Scroll Tiara," but the official notes released on the Cambridges' wedding day revealed that its name within the royal family is the "Cartier Halo Tiara."
The small diamond tiara dates back to 1936, when the Duke of York (later King George VI) purchased it from Cartier as a gift for his wife,
the Duchess of York
(later Queen Elizabeth, later the Queen Mother). When their daughter, Princess Elizabeth (later Queen Elizabeth II) turned eighteen, they gave her the tiara as a birthday gift. Tiaras are a common eighteenth birthday gift for royal women; though there are no hard-and-fast rules against wearing tiaras before eighteen, most women don't don their first sparkler in public until they are adults.
There are no photos of the Queen wearing the tiara, and shortly after she ascended to the throne, her younger sister,
Princess Margaret
, began wearing the tiara in public. However, the tiara was only on loan to Margaret, and the next royal wearer was the Queen's only daughter,
Princess Anne
.
Anne wore the tiara several times in the 1970s, but it didn't see the light of day for decades, until it appeared on the head of
the Duchess of Cambridge
as she rode to Westminster Abbey. The press release on the wedding day indicated that this was again a loan, meaning that the Duchess does not have permanent ownership of the tiara. However, as the shape of the earrings she wore on her wedding day echoes the design of the tiara, it seems likely that the loan is a long-term one.